It's Thursday, April 16 and the C&W has your back.
Weather
:
Temps in the mid 50's, reaching to about 60 by late afternoon
, then falling to the high 40's overnight. Clear skies all around.
Good stuff from the Temple Today:
Health&Safety: Stress awareness
Or read the complete

sparknotes

here: Stress can make you have everything

diarrhea

to headaches. If you do have it, follow these steps: 1. admit it. 2.

phuckin

' relax.


Temple University Jazz: Big Band Dance: 7:30 p.m. Student Center, the Underground. Te
rell

Stafford, director. Sponsored by the Boyer College of Music and Dance.

Led by Ricky Ricardo.


"Secret Cinema: Films from the Urban Archives: Secrets from Philadelphia's Past": 4 & 6 p.m. Paley Library, lecture hall. Temple University Libraries has unearthed great tidbits of Philadelphia history from the Urban Archives' film collections to be shown on screen and to the public for one day only by the Secret Cinema. Details available online.

What kind of a secret cinema is played in a lecture hall?


"

Philabundance

Awareness Day": 10 a.m.-2 p.m. Bell Tower. The

STHM

Student Association is holding a fundraiser and food drive

benefiting

Philabundance

. Volunteers will be selling $1 snack items and raffle tickets to raise funds; raffle prizes include a new guitar and gift baskets. Monetary and food donations will also be accepted.
Well it's easier than having a needle jabbed into your bone, hint hint

TUFB

.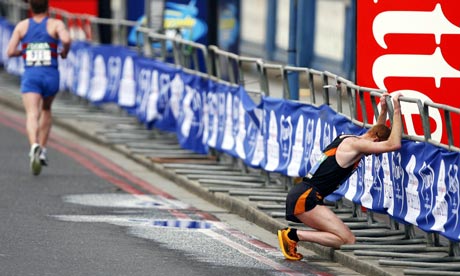 "Spring Shape Up Run": 11:45 a.m.-1 p.m. 13

th

and Berks streets. Join Campus Safety S
e
rvices

for its annual 5K run/1 mile walk. Refreshments, trophies and free rally towels will be available
at the event. Walk begins at noon. Run begins at 12:30 p.m.
Despite the postponing of spring fling, the first annual "Work off the 10 beer pounds you just packed on yesterday run" is still on.



Also:

Learn to Salsa Dance in the

IBC

room 205 from 9-11 pm.


Or, go out drinking where your every move is always perfect.