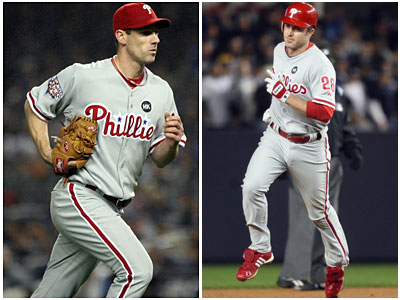 Like you need an update.
Frillies are amazing.
Please Pedro, give 'em some of that Cy Young stuff.
In other news..it's
uhh
, f
riggin

Halloween weekend.
Costume parties start tonight, and we'll have a weekend outlook, including Halloween listings, up for you.
Yesterday's news, still brought to you with more convenience than a newspaper:
Temple's entrepreneurial spirit is even spreading to the theater department?
Do a play that's already been made? Screw that, we'll write our own
jawn
. That's
what spawned "Shot,"
an original play that is now running through Nov. 13 at
Tomlinson
. Shot, of course, referring to someone who got shot in North Philadelphia in 1964. OK, not the cleverest of titles, but maybe worth seeing anyways.
Apparently
Temple's got organized labor spirit
too as
this article
credits the Student Labor Action
Proeject
(SLAP) student org. for helping Art Museum guards win a right to unionize. Entrepreneurs and union people, we so
tallllenteddd
.
Temple keeps up its status of the Beverly Hills of Philadelphia
as it was brought up by not one, but two
Hollywooders
yesterday. First, we finally got to the bottom of this Reese
Witherspoon
thing with
this article
about an
Alvernia
coach selected to play a role in the upcoming movie. Here are the
deets
:
"Berger filmed for one day at the Temple-Ambler softball field that had been transformed to look like a USA home field for an international game...an upcoming major motion picture starring Reese

Witherspoon

, Jack Nicholson , Owen Wilson and Paul Rudd."
The
second article
was an interview with
Boondock
Saints directer Troy Duffy, who di
scusses the upcoming sequel to that movie.
Duffy and the two main actors (ya know, the I
rish dudes) visited the Reel
a few weeks back to field questions from students, and Duffy talks about them a bit in this article.
THURSDAY!
Weather:
looks like the
weather should make a little improvement today
, as you can expect temps to break the 60's and see just a tiny bit of sun today. The main point is it stays fairly warm and dry overnight, so those
Halloween costumes you'll be

rockin

should stay dry. So should Yankee stadium.
Good stuff from the Temple Today:
Well first of all there's
all sorts of crazy seminars and stuff going on today to c
elebrate

the opening of the new Medical Education and Research Building
.
But there are way too many big words and crazy medical lingo, so we're just going to assume you already know if you're going.
Author Laura

Levinger

visits 914

Gladfelter
at 11 today to talk about her book
"What War?"
which focuses on testimonials from survivors of the Guatemalan massacre. Punch and cookies will not be available.
Does your head tilt to the side and eyebrow curiously raise when your prof starts talking about something called
"A.P.A. format"
? Well then you might want to check out
this workshop
that teaches all about that pain in the ass style from 3-4. That, or drop out of college. Same end result.
Also, don't forget
Temple individual game basketball tickets go on sale at 10 a.m. today.
If you want to tickets to games like Kansas, Nova,
PSU
, etc. you should probably get on that. Of course, if you have your wild cherry pass, you're good to go.
Pedro vs. Burnett. 7:57. Be
thurr
.