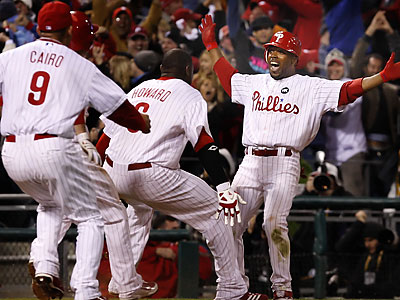 The
Philadelphia Phillies are amazing
.
Here
, if you don't know.
In other news, controversy, controversy, and more controversy.
First, we have c
ontroversial Dutch Parliamentarian Geert Wilders
coming to campus tomorrow
.
Wilders is known for calling Islam a violent religion and being borderline bat-shit crazy. However,
supporters of Wilder are saying that his opinions fall within free speech
. TUPurpose, which apparently is a student organization here on campus, is sponsoring his presentation, and to much protest. At today's TSG senate meeting, the student body voted to condemn his visit, and protests were held outside. Security will be ramped up for tomorrow's presentation, for which students in TUPurpose say they have received threatening messages.
Remember professor
Marc Lamont Hill
?
You know that prof who was at Temple for the past four years, and appeared on Fox news to talk about hip-hop and all sorts of other stuff? Yea well he went to Columbia and apparently got fired from the Fox News pundit team, at least according to this
right wing article
.
In state politics,
Rendell is working for his money
, per this article that discusses how he is making a push this week to pass casino legislation, so TU can finally get its dough. So not only will your rich roommate's grandma be supplying you with guys with cookies during the holidays, but she'll also be funding your future college education when she hits the slots on the weekends. Yay roommate's grandma!
In sports, word has it that
Bernard Pierce may be OK.
Preliminary reports coming out now are saying that he's questionable for Saturday's game against Toledo, but shouldn't miss any more than that. Keep your fingers crossed.
Thanks for reading, and thank you Jimmy Rollins!