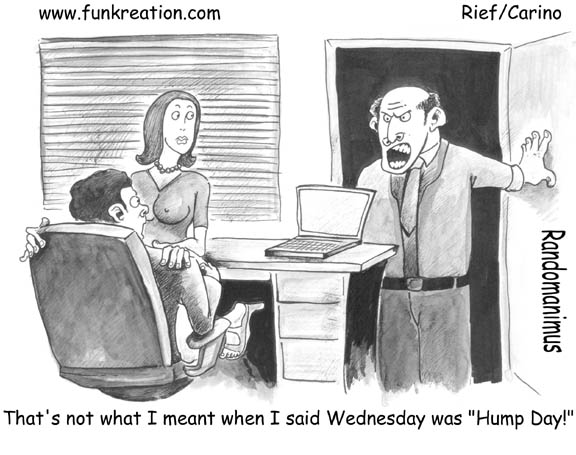 It's Wednesday, October 7th, and it's friggin' humpday.
Weather:
Appropriately, the weather has taken a turn for the worse. Cloudy and windy in the mid 60's by day, clear and cool in the low to mid 50's by night.
Good stuff from the Temple Today:
Have trouble managing your time?
Get stressed out and lose sleep because of it? Yea, us too! Might wanna check out
this 11 a.m. workshop
in Suite 101 of the Academic Resource Center to learn out to manage your time more effectively. Then again, that would require time management to go to. Might be screwed here.
Poli sci peeps, w
e have a
juicy discussion
going on today: "Why the Reed Rules?: The Post-Reconstruction South, Republican Party-building, and Congressional Development." Given by a guest lecturer from Swathmore, in Gladfelter 914 at 1 p.m.
Opening of the
Temple Community Gardens!
Yup, the ribbon will be cut on the new gardens at 2:30 today, so make sure you stop by afterwards and check it out.
Are you a slob when you eat?
Would you scare off potential employees by ordering a hotdog from the children's menu and then proudly displaying it as you chew? Check out this
etiquette dinner
,
where they will rap your knuckles with a ruler every time you mess up and whip you into proper shape. $15 bucks gets you the three course meal and instruction, at 5 pm in Mitten Hall.
Other stuff going on:
PHILLLLLLLIEEESSS!!
The
Phils open their 2009 postseason campaign
at home tonight against the wildcard Colorado Rockies. Lee will get the start in game one, as Charlie says he is a bit fresher than Cole Hamels. The Phils could use some revenge against the Rockies after they swept them from the 2007 NLDS, so Go Phillies! Game time is 2:37 on TBS.
Also,
Councilwomen
Maria D. Quiñones-Sánchez

of the 7th District will be on campus to talk on Latino issues as part of Latino Heritage Month tonight. She'll be in the SAC 217CD at 7 pm, so stop by if that's your thing.

Last but not least, don't forget to go see T

emple Theater's Sweet Charity before it closes!

Here is the rest of the schedule:
Wed 10/7 730pm, Thu 10/8 730pm, Fri 10/9 8pm, Sat 10/10 8pm, Sun 10/11 2pm.