Rise and shine Temple...2 days down, 2 more to go until it's Friday.
Unfortunately, we won't be getting any help from the
weather today
, which is looking low 60s and cloudy by day, and then dipping into the
low 50s
and clear by night. Bust out those
hoodies
everyone.
Cream of the crop from Temple Today: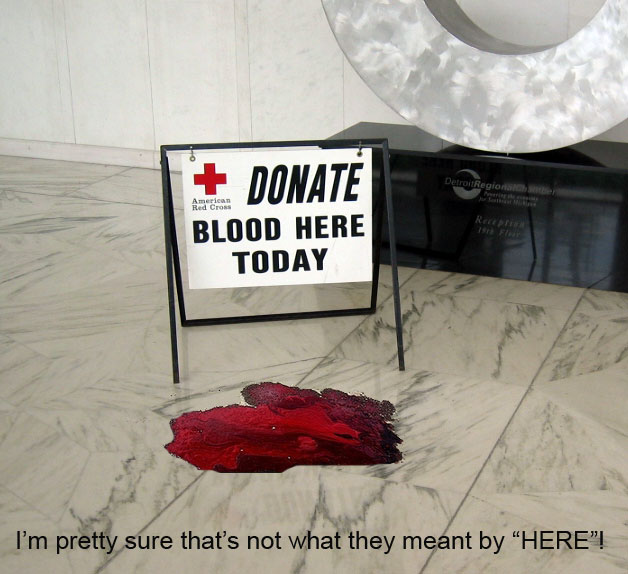 Blood drive
!
Go do some good today at Johnson or Hardwick from 10-8. It says you need to be a resident or have someone sign you in, but I'm sure it wouldn't be too difficult to get in. Perfect timing too..as far away from the alcohol end of the college cycle as possible.
The
provost's art collection
on the ground floor of Paley runs today until Friday. It says it has works of faculty and students, might be worth checking out. But she's only bringing it out for three days!! Does anyone else get this image of a
richie rich style vault
where the Provost just hordes all her art and occasionally throws a bone to the proletariat?
Paley's having an artsy day as they're also
hosting a film
at 7 pm by Wolgin finalist
(the wolgin competition is a big, international art competition Temple is putting on) Sanford Biggers. The film is based around the history of the song "strange fruit," made famous by Billie Holiday, and will surely discuss race related issues.
Ton
ight is
Temple night at Ortlieb's Jazzhaus
, located at 837 N 3rd Street. If jazz is your thing or you think you'd like it to be your thing, might wanna check it out.
Here is their website
.
There are no sports today, except of course the
Phillies trying to clinch the NL East
against the Astros.
Thanks for reading, we'll see ya later today.