Usually Wednesdays(
Wensdai
?) are these difficult, uphill climbs where time seems to move slower than usual as we await the end of the last day before the "college weekend"
begi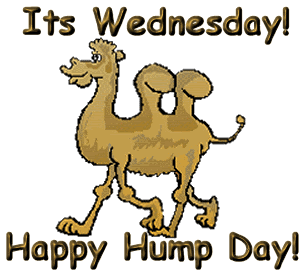 ns
. However, this is syllabus week and the very first
humpday
so there's something a little endearing about it.
Weather
: Once again the weather does not disappoint this week- in fact, it improves- as we have a full day of sunny, mid-70 weather. Clear night in the lows 60s.
Good stuff from the Temple Today:
Spain study abroad
: In
Tuttleman
200 at 3. Hey
everybody,
let's go say hi to Sergio!!
Olé
.

Ambler campus foam dance party
: Ambler campus foam dance party!? That sounds sweet, where is the main campus foam dance party? We only get free concerts, 100 foot banana splits, hypnotists, and all that C-list stuff. Just kidding student activities,
jussst
kiddddding
.
Peep the
Cherry

TArts

blog
for a new ceramics, glass, and fibers gallery opening today in the Tyler school of art. The Tyler School of Art, bringing creativity to main campus since 2009.
Sports at home
: none!
Now go ride that hump!