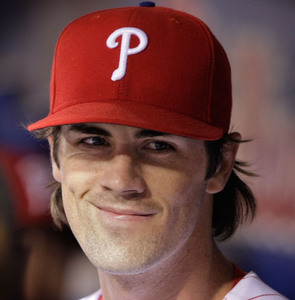 As I said in my previous post on the NLCS, Cole Hamels is the man. Hamels basically carried our team through 7 innings in last night's 3-2 victory over the Tampa Bay Rays. By the way, since when did they drop the "Devil" from "Devil Rays?" Apparently, it happened last winter. I hope that there isn't divine intervention in the "Rays" season or we could be screwed. Anyways, Hamels easily gets the game ball and is the leading man for playoffs MVP.
However, last night's game is no cause for celebration. Ryan Howard, the key player for the Phils in this series, looked terrible. No hits, three strike-outs, and a number of bad plays on the defensive end. Luckily Utley got us on the board early with his 2 run homerun in the first, but we are going to need some slugging from Howard to keep pace. I don't expect the Rays 3-4-5 hitters to go 0-12 for the rest of the series, especially going against Myers and Moyer. The Phillies also left too many players stranded, including at least 3 leadoff base runners by my count. I'm not quite calling this game a steal because the Rays didn't show up offensively either, but Cole Hamels had a lot to do about that.
On another note, my predictions about the DH not being an issue are at this point, inaccurate. Thanks a lot Coste. Coste, being our only right handed hitter off the bench, really needs to perform better than he did last night. Give him another chance against a lefty, but if he doesn't improve, try your luck with Stairs.
Not anything too insightful, just my two cents. The real question will be how Brett Myers performs in a foreign stadium tonight, and if Ryan Howard can deliver some support. Go Phillies and thanks for reading.